September 19th, 2013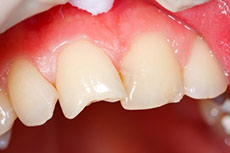 Whether you took a bite into something too hard for your tooth, or took a nasty spill, the potential to crack, fracture or chip your tooth is possible. Thankfully, there are several ways to fix a chipped tooth depending on the severity of the accident.
Chipped teeth come in all shapes and sizes. While the enamel on your tooth is one of the strongest tissues of the body, it still can be broken especially if a tooth already has a good amount of decay. While it's less likely for a tooth to chip from eating, harmful snacks like ice, chewy and hard candy, and popcorn can cause a break. However, it's much more likely you'd receive a chipped or fractured tooth from falling over, playing a sport without a mouth guard, or involving yourself in a rowdy bar fight- all of which we advise you to avoid.

If you do experience a chipped tooth, we recommend you call your dentist right away and get your tooth fixed as quickly as you can. Often a chipped tooth can escalate to further damage, infection, and serious injury.
After an appointment has been set, we recommend covering your chipped tooth with wax paraffin or sugar-free gum to keep the jagged ends from cutting your gums, lips, or cheeks. If the tooth is painful, take an over the counter pain reliever to help minimize the discomfort. A cold press can also help the area from swelling.
Treating Your Chipped Tooth
Fixing a chipped tooth is often a very simple procedure. There are several ways to treat a chipped tooth depending on the severity of the break. While a simple crack or chip can be fixed during an office visit, other cases may need several doctors visit to make sure the tooth is safe from infection and further damage.
Resin Bonding
If only a small chip or break is present on the tooth, resin bonding can be used to repair it. Bonding uses a tooth-colored composite resin that fills the gap in the tooth.
This procedure is rather simple, using a flexible cement-like material; the dentist applies an adhesive material to the tooth then adds the bonding filler. The doctor then shapes the bonding to resemble the missing shape of the tooth. When just right, an ultraviolet light is used to adhere the bonding to the tooth and harden it enough to withstand the daily activities of a tooth.
Cap or Crown
For a more severe fracture, the dentist can choose to use a cap or crown to cover a tooth completely. First, the dentist will grind away a portion of the tooth. Next, they fit a tooth-shaped cap and adhere it to the remaining piece of tooth. If there is minimal tooth left, the dentist may place a post into the root of the tooth to build enough foundation for the cap to be placed on securely. Different materials can be used which usually depend on which tooth is being replaced. For less visible teeth, gold can be used, as it is a stronger material. Porcelain crowns can look much more similar to the original tooth which make them more useful for visible teeth.
In the past crowns could take several visits to complete. At Water Tower Dental Care they can now be completed in one visit with CEREC technology.
Veneers
Minimal Prep Veneers and Porcelain Veneers can be used for front chipped teeth. Similar to a cap, it is an exterior body resembling a tooth that is placed over your teeth. With veneers though, only a small amount of tooth enamel is filed down for the veneer to fit over the tooth. After filing the tooth, the dentist will make an impression of your teeth and color, then have veneers specially made. On a second visit, the veneers are cemented to your teeth.
Root Canals
In most severe cases, a tooth can fracture and expose the center of the tooth where nerves and blood vessels are. This area is known as the pulp and it is very sensitive. If exposed, the pulp can easily become infected. When this happens, the pulp must be extracted through a root canal procedure. The dentist removes the dead pulp and cleans out the emptied area. Next the canal is sealed to prevent future infection. Once sealed, a cap is placed over the remaining tooth.
Most chipped teeth happen from simple accidents. However, tooth decay can weaken a tooth to make it more likely to chip. Proper care and hygiene of your teeth is crucial. If you have any problems with a chipped tooth or would like to keep your teeth free of decay, contact Water Tower Dental to set up an appointment. We'd be happy to help.