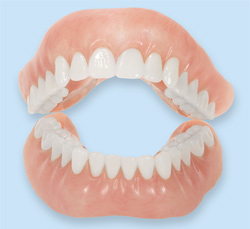 Dentures
Dentistry is all about smiles, and having a confident, healthy and beautiful smile is equally important for denture wearers, as it is for those with permanent teeth. These natural looking replacement teeth are removable adn are available as a full or partial denture.
Immediately after all natural teeth a have been removed, an interim full denture serves the patient until the gum tissue has healed, at which point a conventional full denture is fitted. Because of the dynamic physical changes associated with the healing process, several adjustments may be required during the first couple months. After one or more teeth have been removed, a partial denture, attached to a metal frame, is connected to the remaining teeth, and are considered a removable alternative to a bridge.
Are Dentures the Right Choice for Me?
That question is best answered during a consulation with Dr. Aneszko and Dr. Stino, as dentures are not suitable for everyone.
Denture Care
Just like natural teeth, dentures require the same daily maintenance to remain clean and bacteria-free. .Viewed another way, clean dentures equal healthy smiles.
When handling your dentures, stand over a clean, folded towel or a sink full of water. That way, if you accidentally drop your dentures, they are less likely to break.
Just like natural teeth, dentures are not immune from plaque and tartar build-up, so it's necessary to brush them every day. Use a soft-bristled brush to gently brush the surfaces, being careful not to break or bend the plastic. Rinsing your dentures after every meal keeps them clean and white.
Rather than using an abrasive toothpaste, use a gentle cleanser, such as mild hand or dish soap when cleaning your dentures. Should you wish to purchase over-the-counter denture products, be sure to check for the American Dental Associations "ADA Seal of Approval", or just ask us!
When not wearing your dentures, be sure to keep them moist:otherwise they can dry out, lose their shape, or even crack and break. Certain styles of dentures require specific soaking solutions, so be sure to ask Dr. Aneszko or Dr. Stino which solution is best for you.
Even if you have a full set of dentures, it's essential to keep your gums and tongue clean. Be sure to use a soft-bristled brush to clean your gums and tongue gently every day.
If by chance your dentures do break, please contact our practice and schedule an appointment as soon as possible. Broken dentures that don't fit properly can cause irritation to your gums and mouth.