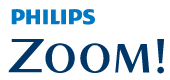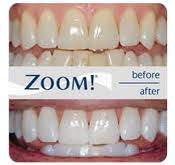 What do you wear every day, that you never take off, and is the must-have accessory, no matter the season? It's your smile!
Did you know whiter teeth can create opportunities for you, both socially and professionally? According to independent studies, it's absolutely true.
Make friends and family envious, give your career a jolt, and maybe even get that invitation you've been waiting for with teeth-whitening solutions from Water Tower Dental Care.
Zoom! Your Way to a Whiter Smile
Safe, fast, and extremely popular, teeth whitening can change your look dramatically with just a single appointment. We offer Zoom! Whitening in our Chicago dental office. Zoom! is a leading teeth-whitening system that brightens smiles up to eight shades in about an hour. Bling, bling!
Here's the rundown on the Zoom! Whitening process:
First, we'll apply a special pH-balanced hydrogen peroxide solution to the surface of your teeth.
Next, we'll use a special low-heat light to activate the solution.
That's it! Two steps in just one appointment to a brilliantly white smile! The activated teeth-whitening solution penetrates the uppermost layers of teeth to undo discoloration caused by coffee, tea, tobacco, red wine, and other offenders.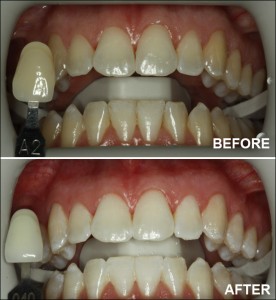 Bleach at Home
Prefer your sofa and Judge Judy to the dental chair? Can't say we blame you! If you'd rather whiten at home, you'll want to consider take-home teeth whitening.
We'll make you custom bleaching trays to use with our professional-strength whitening gel. The doctor will explain how to use the gel/tray combination, then send you on your way to whiten in privacy. You'll still get magnificent results with teeth that are six to ten shades whiter in about two weeks.
If you have any questions, we have put together a list of the most frequently asked questions regards Teeth Whitening.
Treat your smile to a little bit of luxury in the heart of Chicago! Call Water Tower Dental Care today to schedule an appointment with Dr. Aneszko or Dr. Stino. From our offices in Water Tower Place building on The Magnificent Mile, we offer a level of service that's anything but ordinary!
Hear What Our Patients Have to Say!
What is Teeth Whitening?
Teeth whitening helps remove stains and lighten teeth discoloration. It's one of the most popular and affordable dental cosmetic procedures due to how well it works. You will need to whiten every so often, because the stains will come back if you don't take care of your teeth by brushing on a daily basis and refraining from smoking or eating foods that could stain them.
What Kinds of Teeth-Whitening Procedures are Out there?
At Water Tower Dental Care, we use the Zoom! Teeth whitening system because it is safe, affordable, and works extremely well. Other teeth-whitening systems on the market include:
Laser teeth whitening – A low-powered laser is used for 15 to 60 minutes by a dentist to lighten your teeth. The major drawback to this procedure is cost. Annual treatments can range upwards of $1,000 if you want to maintain the results.
Whitening toothpaste – You can buy whitening toothpaste over the counter at any drug or home-goods store. However, it does not work nearly as well as getting your teeth whitened in a dental office. Teeth-whitening toothpaste differs from normal toothpaste in that it is much more abrasive – and, as such, will only remove surface stains – whereas getting your teeth whitened in a dental office will completely remove the stains. The drawback is that if you use it on a constant basis, you could damage your teeth.
Teeth whitening strips – You can buy teeth-whitening strips over the counter as well. They don't do half as good of a job as getting your teeth whitened in a dental office because they are very low-powered. The active ingredients are a fraction of the active ingredients in the teeth-whitening system you'd find in a dental office.
Over-the-counter whitening products – As with teeth-whitening toothpaste and strips, all over-the-counter whitening products contain a fraction of the active ingredients that make in-office dental whitening treatments work so well. If you're on an extreme budget, they might make sense, but you won't get nearly as good results as you would with a dental office visit.
Teeth Whitening at a Dentist vs. Teeth Whitening at Home
Teeth-whitening strips and teeth whitening toothpaste don't work as well as the dental office teeth-whitening systems. This is because the FDA is afraid if it allows the public unrestricted access to full-strength teeth-whitening products, people will risk harming themselves with no professional dental supervision.
Peroxide is the active ingredient that makes teeth whitening systems work. At-home whitening systems contain anywhere from 3% to 20% of peroxide while in-dental office systems contain 15% to 43% peroxide.
Cost of Teeth Whitening
The overall cost of teeth whitening can range from $100 to in excess of $600 or more. It all depends on the amount of work and product that's needed to get your teeth to an acceptable shade of white.
It's best to make an appointment with a dentist so he or she can evaluate the current status of your teeth discoloration and make a recommendation based on what shade of white you'd like to have.
Teeth-Whitening Results
For best chances of success and satisfaction, it's advisable to follow the instructions of the dentist. This means keeping all dental appointments and using the teeth-whitening system as recommended. If the dentist gives you a take-home teeth whitening system, use only as directed, because you could otherwise damage your teeth.
No matter how good the results you get from an in-office dental teeth-whitening system, certain choices can ruin your new pearly whites. If you select the following drinks, you run the chance of re-staining your teeth over a short period of time:
Black coffee/tea
Sports drinks
Carbonated sodas
Sauces (curry or tomato)
White/red wine
People who smoke (including e-Cigs) can also ruin the color of their newly whitened teeth in a matter of a few weeks to a few months. It's best to use this opportunity as an excuse to quit smoking.