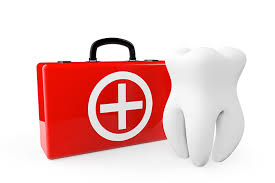 Emergency Dental Care When You Need it Most
If you experience a dental emergency, call us any time of the day, night, weekends, or holidays at: (312) 787-2131.
Dental emergencies in Chicago happen at the most inopportune of times, and often when you least expect it. From excruciating toothaches that prevent you from going to sleep, to chipped or broken teeth, call us at any time (including weekends and holidays) and you will be able to speak to a live person regarding your emergency.
At Water Tower Dental Care, we realize dental emergencies can happen at any time of the day or night. We will be there for you every step of the way.
When to Call an Emergency Dentist in Chicago?
There are many situations that would require you to contact us for emergency dental care:
Chipped or cracked teeth that are causing you pain
Damaged filling or crown that's causing severe pain
Intense oral pain in the gums, jaws, teeth, or jaw joints
Knocked out tooth or teeth
Dental pain can often be so intense that it prevents you from going to sleep at night. Instead of trying to make it through the night with that pounding toothache, you should give us a call and we can help make the pain stop at any hour of the day.
When to go to the Emergency Room?
If you are bleeding profusely from your head, face, jaw, or mouth, call 911 or head to the emergency room immediately. You will want a doctor to look at your injury, and he or she will most likely administer stitches to stop the bleeding. After you leave, call our offices for a consultation.
If you think your jaw may be broken, head to the emergency room as well. We cannot set bones, but we can see you after you have been treated by an orthopedic physician.
When to Schedule an Appointment for a Chicago dentist?
If you are not experiencing severe pain that prevents you from going to sleep at night, and if taking over-the-counter pain medications is helping to control the pain in the day time, call our offices to schedule an appointment during our normal business hours.
Waiting to see if the pain will go away on its own will only make things worse ... and it could potentially put you in a life-threatening situation. At the first sign of dental or oral pain, you should call our offices and schedule an appointment as soon as possible.
In some cases, we can offer you a same-day dental appointment. No need to wait for an open appointment slot if you're having a dental emergency during our normal business hours.
Emergency Dental Tips
If you are currently having a dental emergency, there are a few things you can do to help save a knocked-out tooth or control toothaches:
Knocked out teeth: try to keep the tooth moist by placing it in a ziplock baggie and then pour some milk or the patient's saliva inside (enough to cover the tooth). If the tooth is dirty, you can run it under a small trickle of water to clean it, but do NOT damage the nerves if they are still attached. When handling the tooth, gently hold it by the crown part, not the roots.
If a temporary or restoration tooth falls out: Inlays, fillings, onlays, or even crowns can fall out when you least expect it. Try to find the restoration, and if it's still in one piece, put a small dab of toothpaste on the underside and replace it where it once went. Call our offices as soon as possible to schedule an appointment. If the restoration is in pieces, gather up as many pieces as you can, put them in a ziplock baggie and bring them to our office. Don't panic, because it is often possible to replace a restoration, including a filling.
Severe toothache: Severe toothaches can often come on when a piece of food is lodged between the teeth. Grab some dental floss and try to floss around the area where the pain is. Once the piece of food is dislodged, the pain should subside. Over-the-counter anti-inflammatory pain meds such as Advil can help reduce the "throbbing" pain you feel from an infected toothache.
Emergency Dentist in Chicago
At Water Tower Dental Care, we recognize dental emergencies happen at all hours of the day and night. We have set up our after-hours emergency phone number to help you get relief from the pain you're currently experiencing.
Treat your smile to a little bit of luxury in the heart of Chicago! Call Water Tower Dental Care today to schedule an appointment with Dr. Aneszko or Dr. Stino. From our offices in Water Tower Place building on The Magnificent Mile, we offer a level of service that's anything but ordinary!
If you are experiencing a dental emergency such as acute pain or an injured tooth, please call our office immediately. If your emergency occurs outside of normal office hours, please listen to the recording and follow the instructions. Emergency calls are answered 24 hours a day, seven days a week.