Trauma and untreated dental conditions can damage both teeth and smiles seemingly beyond repair. Never give up hope on your smile. Our dentists can do some amazing things through our full-mouth reconstruction services.
Dr. Aneszko and Dr. Stino take compromised smiles seriously. They understand that dental damage can have devastating effects on your oral health, your confidence, and your entire life. Full-mouth reconstruction provides a way to restore smiles to their former glory through a series of phased treatments.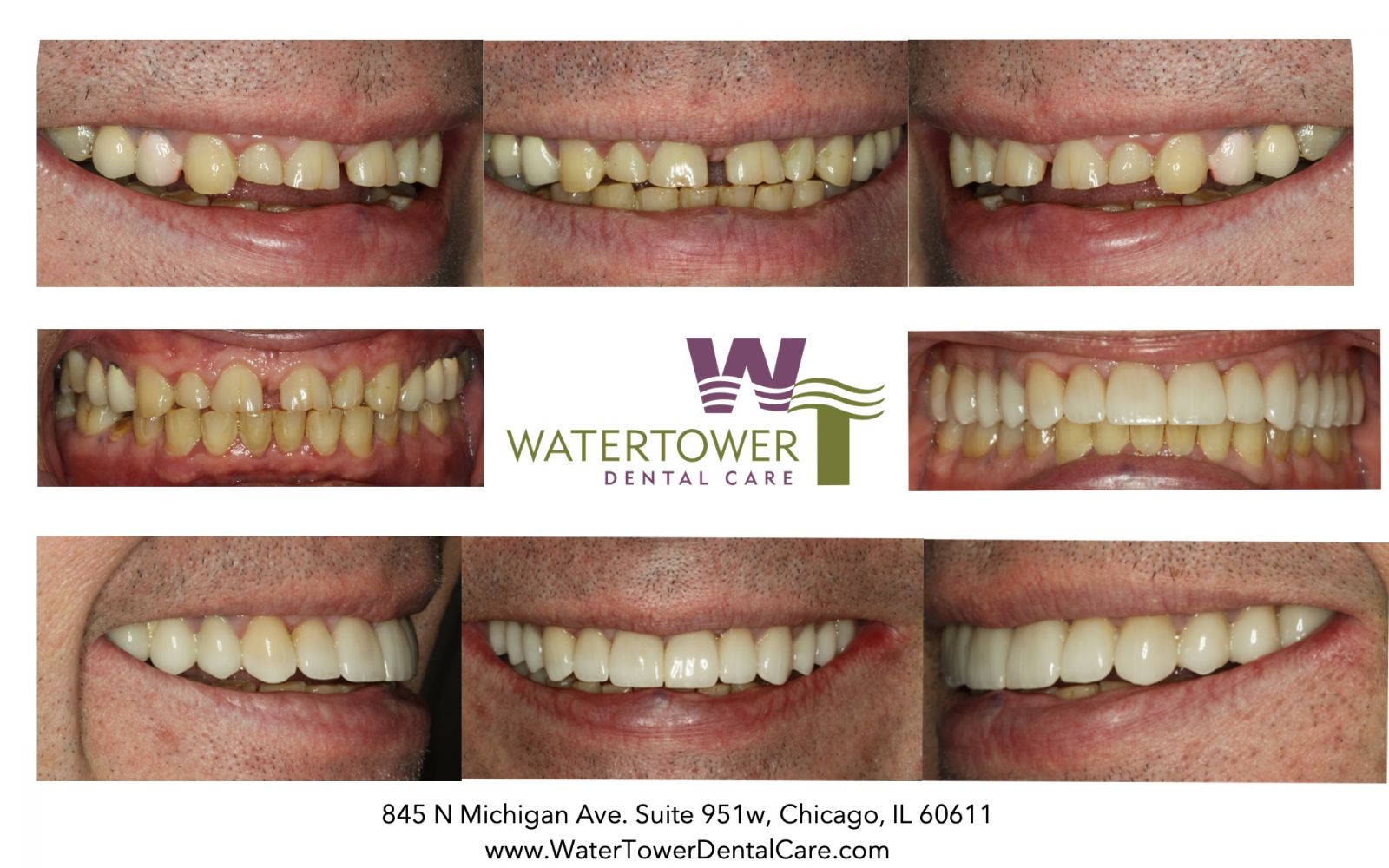 What's Involved with Full-Mouth Reconstruction?
Each person's mouth and overall dental health are different. Some people have perfect dental health and need to replace a few teeth that were knocked out in an accident. Others have underlying dental health issues that are the cause of their crooked or missing teeth.
For someone who has good oral health and just needs to replace or repair a tooth or teeth, the dentist might recommend one or more of the following procedures:
Crowns and crown lengthening – Crowns can be lengthened so they look balanced and in alignment with the rest of your teeth.
Gum contouring — Those who suffer from gummy smiles can take advantage of gum contouring. Your gums will be contoured into a more aesthetically pleasing shape.
Dental implants — If properly taken care of and maintained, dental implants will last a lifetime. Their cost can be high, but implants are a set-it-and-forget-it type of procedure. Many other treatments will last only ~ten years until they need to be redone.
Bridge — Bridges are a viable alternative to dental implants. The materials used nowadays are indistinguishable in color, feel, and shape from real teeth.
Braces — Before full reconstruction can begin for some people, they might need a few teeth moved into a more optimal position. Such treatments as Invisalign and braces can help accomplish this.
Veneers — Veneers are another dental implant alternative. They are less costly and look just great.
For those who are suffering from underlying dental issues such as tooth decay, gingivitis, or gum disease, Dr. Aneszko or Dr. Stino might recommend one or more of the following procedures before reconstruction work begins:
Teeth cleaning — A perfect smile rests upon a good foundation, and having clean teeth means less chance of any issues popping up later down the road. Teeth will be deep cleaned for best chances of success.
Deep cleaning — For some patients, the dentist may recommend a deep dental cleaning to get rid of plaque and tartar in hard-to-reach places.
Bone/soft tissue graft — If the patient opts for dental implants, he or she may not have enough jawbone material to provide a sturdy underlying foundation. Bone grafts can help build up new bone material on the jawbone, and thereby give the implant a sturdy place to rest.
If money is a concern, we will also take your financial situation into concern when we come up with a treatment plan. For example, if dental implants are not within your budget, there are alternative procedures our team can perform, such as bridges and veneers.
How Long Will Full Restoration Take?
It's hard to say how long a full dental restoration will take. Each person is different. For example, if someone wants dental implants, but doesn't have enough jawbone material to support them, a bone graft will need to be performed.
This can add anywhere from four to six months of time before your mouth has healed and is ready for the dentist to install the implant.
For those who opt for veneers and bridges, the overall time frame can be significantly less than dental implants. However, bridges tend to need replacing after ~10 or so years while implants can last an entire lifetime (if properly taken care of).
What Comes After Full-Mouth Restoration?
Your brain is so used to your teeth being the way they are that it may take a few weeks to a few months for it to get used to your new teeth and/or bite.
People who have had missing teeth or bone loss in the jawbone area might find themselves speaking differently once their jawbone has been repaired and they have a full set of teeth in their mouths. The shape of their face also might change a bit due to the new implants in the mouth (for the better).
Of course, the most important benefit from getting full-mouth restoration is an increased sense of self-confidence. No longer will you consciously have to hide your smile or remember not to open your mouth too wide due to missing or broken teeth. Many patients report increased happiness due to being able to smile more than in the past.
How Much Does Full-Mouth Restoration Cost?
The only way to determine how much the entire procedure(s) will cost is to have Dr. Aneszko or Dr. Stino examine your mouth and come up with a plan of action. If you can't afford to pay for all of the recommended procedures at once, our office can stagger your appointments over the course of time so you can save money for the next phase of treatment.
The best way to learn the overall cost is to schedule an appointment. After examining your mouth (and taking X-rays), the dentist will sit down and give you a treatment plan that will show exactly how much it's going to cost.
Full-Mouth Dental Reconstruction in Chicago
We'll discuss your concerns and evaluate your needs to come up with a full-mouth reconstruction plan that's right for you. The doctor may recommend several general, cosmetic, and restorative dentistry procedures to revitalize your smile.
Dental implants offer a great way to replace missing teeth, because we can rebuild every tooth to its proper length and size with dental crowns. Porcelain veneers or cosmetic bonding can cover flaws on the teeth that show when you smile for a beautiful finish.
A healthy smile rests on a firm foundation, so we'll get underlying dental conditions — gum disease, TMJ dysfunction, teeth grinding — under control, then begin rebuilding your smile.
Ask about sedation dentistry to calm jittery nerves prior to and during your dental work.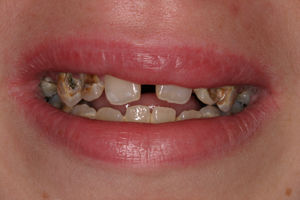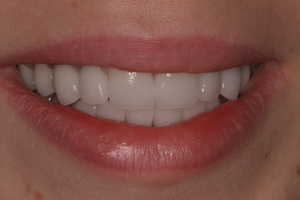 Treat your smile to a little bit of luxury in the heart of Chicago! Call Water Tower Dental Care today to schedule an appointment with Dr. Aneszko or Dr. Stino. From our offices in Water Tower Place building on The Magnificent Mile, we offer a level of service that's anything but ordinary!