Full Mouth Reconstruction
Trauma and untreated dental conditions can damage both teeth and smiles seemingly beyond repair. However, thanks to the incredible advances in dentistry, namely full-mouth reconstruction techniques, we are now able to apply these virtually amazing phased treatments, resulting in the smile always wanted. Dr. Aneszko and Dr. Stino fully recognized the reasons for compromised smiles, and most importantly, the methods ot overcome them.
No two patients have the same degree of dental health and conditions,requiring one or more of the following interim procedures before full reconstruction begins:
Crowns & Crown Lengthening: Resulting in the alignment of those teeth, which disrupt a balanced look
Gum Contouring: Resulting in a more aesthetically pleasing shape
Dental Implants: Resulting in a "set-it-and forget-it" transformation, replacing missing teeth for a lifetime with porcelain teeth that mimic permanent teeth better than any other treatment
Bridges: Resulting in option for missing teeth and are the viable alternative to dental implants but involve the adjacent teeth as well
Braces/Invisalign: Resulting in a more optimal tooth repositioning to allow full dental reconstruction to proceed
Veneers: Resulting in a an economical option for covering dental issues such as stained, poorly spaced, and misshapened teeth
Teeth cleaning: Resulting in whiter and brighter teeth as the finishing touch to your beautiful smile
Deep Cleaning: Resulting in the removal of unsightly plaque and tartar which accumulates on hard-to-reach tooth surfaces or below the gum line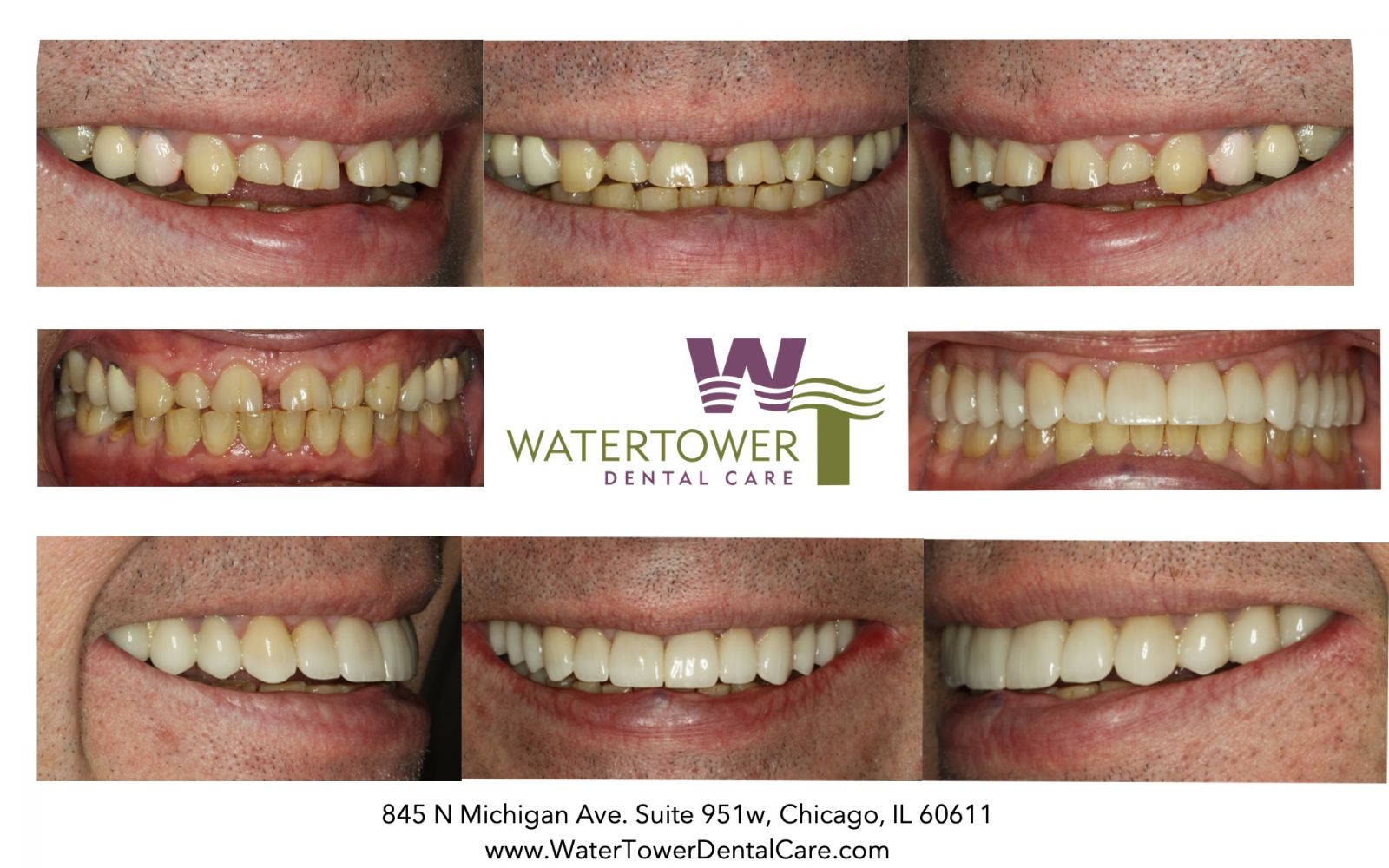 How Long Will Full Restoration Take?
It's hard to say how long a full dental restoration will take. Each person is different. For example, if someone wants dental implants, but doesn't have enough jawbone material to support them, a bone graft will need to be performed.
This can add anywhere from four to six months of time before your mouth has healed and is ready for the dentist to install the implant.
For those who opt for veneers and bridges, the overall time frame can be significantly less than dental implants. However, bridges tend to need replacing after ~10 or so years while implants can last an entire lifetime (if properly taken care of).
What Comes After Full-Mouth Restoration?
Your brain is so used to your teeth being the way they are that it may take a few weeks to a few months for it to get used to your new teeth and/or bite.
People who have had missing teeth or bone loss in the jawbone area might find themselves speaking differently once their jawbone has been repaired and they have a full set of teeth in their mouths. The shape of their face also might change a bit due to the new implants in the mouth (for the better).
Of course, the most important benefit from getting full-mouth restoration is an increased sense of self-confidence. No longer will you consciously have to hide your smile or remember not to open your mouth too wide due to missing or broken teeth. Many patients report increased happiness due to being able to smile more than in the past.
How Much Does Full-Mouth Restoration Cost?
The only way to determine how much the entire procedure(s) will cost is to have Dr. Aneszko or Dr. Stino examine your mouth and come up with a plan of action. If you can't afford to pay for all of the recommended procedures at once, our office can stagger your appointments over the course of time so you can save money for the next phase of treatment.
The best way to learn the overall cost is to schedule an appointment. After examining your mouth (and taking X-rays), the dentist will sit down and give you a treatment plan that will show exactly how much it's going to cost.
Ask about sedation dentistry to calm jittery nerves prior to and during your dental work.