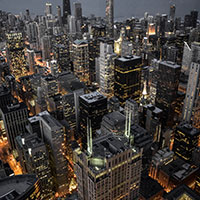 Just because the weather is getting colder and nights longer doesn't mean you're stuck inside the house until the springtime of 2019. Chicago is a fantastic city with year-round entertainment and a plethora of fun things to do – even when Old Man Winter starts to drop the cold white stuff all over our city streets.
Just because the temperatures have dipped below freezing and there's snow and ice on the ground doesn't mean that the city shuts down. In fact, it's quite the opposite. Many fun winter-related activities will appeal to anyone willing to step outside their heated house or apartment and seek out adventure.
As life-long Chicagoans, we've come up with our list of seven fun things to do in Chicago in the wintertime. Leave us a comment down below if you think we missed a must-see during these cold winter months.
Michigan Avenue
There is nothing more quintessentially Chicago than ducking into a coffee or hot chocolate shop then taking a nice winter stroll down Michigan Avenue.
What's the big deal about walking down a street, you ask?
Michigan Avenue is home to the world-famous Magnificent Mile shopping district. This is the place to be for the quintessential Chicago wintertime experience. There are tons of shops, restaurants, bars, and even movie theaters you can duck into for an afternoon show.
While Michigan Avenue can be enjoyed any time of the day, nighttime is when it comes alive. The streets, lampposts, and buildings are all decked out with seasonal lights, wreaths, and other holiday icons. If you look closely, you might even catch a glimpse of you-know-who as he's making his list of who's naughty and who's nice.
What: Michigan Avenue in downtown Chicago
Where: You can start anywhere, but most people park near this address: N. Michigan Ave. Chicago, IL 60610
When: Now!
Cost: Free!
Lincoln Park Zoo Lights Festival
Lions and tigers and ice carvings, oh my!
The Lincoln Park Zoo Lights Festival completely transforms Lincoln Park during the winter holiday season. With over 2 million lights strung up along the trees and ice carving demonstrations, carolers, and even a hot chocolate stand, there's something for everyone here.
No matter if you're flying solo, on a date, or lugging the entire family, you'll find hours of entertainment here. The Zoo Lights Festival is a great way to get yourself in the holiday mood and rub elbows with other holiday revelers.
What: Lincoln Park Zoo Lights Festival
Where: Lincoln Park Zoo 2001 N Clark St Chicago, IL 60614
When: Evenings throughout November, December, and select dates in January.
Cost: Free!
Da' Bulls
The world-famous Chicago Bulls have various home games throughout the winter season. If you search online, you can find tickets at a reasonable price. Or if you prefer to splurge, you can easily find courtside seats to watch the next Michael Jordan or Dennis Rodman play.
Be sure to order your tickets asap as seats tend to fill up quickly. Parking can be a bit of a pain, but if you're willing to get some exercise and walk a few blocks, then it shouldn't be a problem.
Bulls tickets can be purchased on many different websites, be sure you're buying them from a reputable vendor. Some of the ticket scalpers that stand outside of the stadium will sell fake tickets that won't allow you admission when they're scanned.
What: Chicago Bulls basketball game
Where: United Center, Chicago.
When: Check the calendar for their home game schedule
Cost: Varies
Ice Skating at McCormick Tribune Ice Rink
Another iconic wintertime Chicago activity is renting a pair of ice skates and taking a few laps at the McCormick Tribune Ice Rink in Millennium Park. You'll get a first-hand view of the amazing Chicago skyline in the wintertime. Guaranteed to put anyone in the holiday spirit, ice skating is a fun way to kill a few hours in the day or night time.
The cost is free, but keep in mind that the park gets packed on the weekends and certain nights. Skate rentals start at $13, and locker rentals can be had for only $1.
What: Ice Skating at McCormick Tribune Ice Rink
Where: Millennium Park, Chicago.
When: Various hours
Cost: Free!
Maggie Daley Park
"Why are you choosing two outdoor skate rinks for your top five list?"
Good question!
We've chosen to include Maggie Daley Park Skating Ribbon on this list because of their unique ice-skating rink. Unlike the McCormick Tribune Ice Skating Rink which is in the shape of a big oval, the Maggie Daley Park has an actual ribbon to skate!!!
Imagine a freeway where no cars exist, and the entire ground is covered in freshly Zamboni'ed ice. At the Maggie Daley Park, you're going to be ice-skating down a ribbon of road that is around twice the length of a standard ice rink.
You'll feel like you're seeing the entire Chicago skyline as you traverse the skating ribbon. There's nothing like it anywhere else in the world, and this is why we've chosen to include it in our top five list.
What: The Maggie Daley Park Skating Ribbon
Where: Maggie Daley Park 337 E. Randolph St. Chicago, IL 60601
When: Weather permitting
Cost: Free! (skate rentals start at $13/rental)
Chicago in the Wintertime
Unlike most cities in the wintertime, Chicago never shuts down. You'll find something for everyone here. Just be sure to check the weather and dress appropriately because when the temperatures start to dip below freezing, and a cold wind starts kicking off Lake Michigan, things can get real cold, real quick.