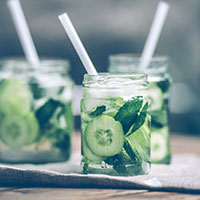 The hot summer months are officially here and that means BBQ's, vacations, and family get-togethers. The only downside to all this fun in the sun is that people tend to neglect their dental health and go lax on their New Year's resolutions to eat a healthy diet.
There are plenty of summertime foods that are tasty and healthy, but there are also plenty of foods that can lead to cavities and gum disease. Lemonade and soda are two of the biggest summertime culprits out there. These two beverages contain massive amounts of sugar – which is not only bad for your teeth, but bad for your overall health.
Candy bars, potato chips (they're loaded with unhealthy trans-fats), beer, cookies, and anything else that contains sugar or pre-processed food products should generally be avoided. This holds true for children as well as adults. Children are especially vulnerable to foods with high sugar content and cavities can form quicker than you think.
Just because you're making a conscious choice to eat healthy summertime foods that promote healthy teeth doesn't mean you'll be stuck in a corner holding a glass of water while munching a celery stick at the next BBQ you attend.
We've come up with 5 fun and tasty summertime foods that you can not only eat yourself but encourage others to eat as well!
Salmon
Fresh (or frozen) salmon contains high amounts of docosahexaenoic acid which is a type of omega-3 fat. Medical studies have been performed that show that these long-chain omega-3 fatty acids can actually help prevent periodontal disease.
Everyone loves the taste of barbecued or baked salmon, and it won't be hard to get your friends, family, and guests to load their paper plates up with a serving of this delicious and healthy fish. Many supermarkets will have summertime sales on salmon which will greatly reduce the normal cost.
Dairy Products
Unsweetened yogurt (topped off with low-or-no-sugar organic granola bits), cheese and low-fat milk all contain calcium and protein which encourage health bones and teeth to grow.
Be sure to have non-dairy options for those who are lactose intolerant. As gross as it may sound, some people who suffer from lactose intolerance love the taste of goat's milk and goat's cheese. Try it – you just might like it!
Cucumber Water
Hanging out in the backyard or park with friends and family is a great way to spend a summer day. Eventually you'll get thirsty and will be tempted to reach for a soda or other drink that contains a high amount of sugar.
Try a glass of water. Yes, plain water is bland, boring, and tasteless – but it doesn't have to be! Go to your grocery store and buy a cucumber. Slice it up into ½ inch slices and then let it marinate in a bottle of refrigerated filtered water overnight.
The next morning you'll have a tasty and refreshing chilled drink. Cucumbers are rich in vitamins, anti-oxidants and offer a whole host of health benefits. It's even thought that cucumbers can help lower blood pressure due to the high amounts of potassium which help the kidneys process the excess salt you might be eating in your diet.
Apples
While many apples are harvested in the fall time, there are several varieties that your local farmer's market should carry. Apples can help satisfy even the worst sugar cravings and will work to stimulate saliva flow in your mouth – which can wash away bits and pieces of food that might otherwise cause tooth decay and gum disease. The water inside an apple will also dilute any sugar that they contain.
Strawberries
One of the most popular healthy summertime foods are strawberries. They're rich in vitamin C, help reduce inflammation and contain collagen, which is a protein that helps fight periodontal disease. Just make sure that you don't eat them with whipped cream, chocolate, or any other non-natural sweets, otherwise you'll turn a healthy food into an unhealthy one.
Peaches
There's nothing sweeter than biting into a fresh summertime peach. They contain the mineral fluoride, which helps re-mineralize and rebuild teeth enamel. Peaches are a great food for helping prevent cavities. They also contain high amounts of vitamin C and calcium which will help strengthen your teeth.
Meats
Meat is good for your teeth, provided that it's eaten in moderation. Meats contain high amounts of protein which will in turn help strengthen your teeth and jaw. Lean meats such as chicken and turkey will add additional health benefits above and beyond what you would get from eating red meat.
Meat can also help fill up your stomach, thereby giving you a great reason to pass on the sugar-laden cookies, cakes, or other snacks that might be served as after-dinner deserts.
Eating Healthy in the Summertime
Eating healthy in the summertime doesn't mean you have to eat boring, bland foods. There are plenty of fruits, vegetables, and meats that taste delicious and will contribute to you or your children's overall dental health.
Just be sure to brush and floss at least twice a day and visit your dentist twice a year for your scheduled checkups and teeth cleaning.