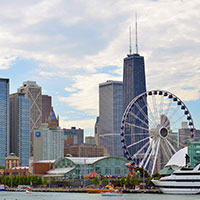 Summertime officially beings on June 21st and that means three months of festivals and outdoor activities that are jam-packed with family-friendly entertainment options for kids from age 1 to 100.
Chicagoans are lucky that we live in such a diverse city. There's no shortage of exciting cultural events and activities that will provide a day's worth of entertainment and get you and your family outside the house.
Open up the calendar on your cell phone and start jotting down these dates. We've picked the top five can't-miss events for this summer. Pack your family into the car and head on down for a day filled with fun and memories!
Grant Park Music Festival
If there's one thing that Chicago is known for in the summertime, it's the plethora of outdoor music festivals. The Grand Park Music Festival is the granddaddy of them all. For over 80 summers, Chicagoans and tourists alike have spent a fun day sitting on the grass and listening to classical music performed by some of the best artists of the day.
The festival runs for ten consecutive weeks. From Vivaldi to Tchaikovsky, treat your family to a day of culture and classical music appreciation. The event is free, but it's highly recommended that you get to the venue at least 1 hour early to secure a good lawn seat.
When: The 2018 season opens on June 13th and runs through August 18th.
Where: This event is held at multiple venues. Be sure to check the Grant Park Music Festival official website for times and dates.
Cost: Public seating is free. Season memberships and one-night passes are offered at reasonable prices. Check website for times, dates, and prices.
World's Largest Block Party
This annual festival delivers everything that its name promises, and then some! The Old St. Pat's World's Largest Block Party has been a time-honored tradition for over 34 years. This family-friendly event will feature some of the most popular food trucks in all of Chicago as well as bounce houses, face painting, and live music.
Saturday afternoons feature plenty of activities for family and kids. Get there early because it will be packed and your chance of finding local parking will be slim-to-none.
It's recommended that you take public transportation to get to the event. A list of schedules and preferred parking areas are on the event website.
When: June 22nd from 5 PM to 10:30 PM and June 23rd from 2 pm to 10:30 pm
Where: Old St. Pat's Church campus in Chicago's West Loop
Cost: Free from 5 pm to 6 pm on Friday and $10 admission all other times.
Irish American Heritage Festival
Celebrate all things Irish at the Irish American Heritage Festival being held at Irish American Heritage Center. From bangers and mash to authentic Irish music, you and your family will experience a day full of cultural events and fantastic food at this three-day festival.
In addition to the good grub and music, the event also features lots of children's activities, a genealogy workshop, kilting, quilting, and spinning demonstrations. If you're of Irish descent or you appreciate all things Irish, there's no better place to enjoy a weekend of fun and food that celebrates Irish heritage in Chicago!
When: July 6th – 8th
Where: Irish American Heritage Center: 4626 N Knox Ave. Chicago, IL 60630
Cost: $10 advance purchase through July 5th and $15 after. Children 12 and younger get in for free. You can buy tickets online, over the phone, or at the door.
Taste of Chicago
Billed as the world's largest food festival, the Taste of Chicago celebrates all of the cultures and foods that make up Chicago. There's something for everyone at this massive food festival.
There will also be two concert venues features some of the performers from Chicago's music scene. The George Clinton Parliament Funkadelic band and the Flaming Lips will be headlining at the Petrillo Music Shell.
If you attend just one outdoor food festival this year, make it the Taste of Chicago. The event has grown over the past 38 years from a humble street fair to a massive celebration that can only take place in Grant Park.
When: Wednesday, July 11th to Sunday, July 15th.
Where: Grant Park
Cost: Free!
Chinatown Summer Fair
Experience a taste of the Orient at the Chinatown Summer Fair held on Wentworth Ave. Come join over 40,000 Chicagoans as they experience authentic Chinese culture, food, and music.
The festival opens with a traditional lion dance procession and features kung fu demonstrations, street vendors that sell both food and merchandise, as well as various Asian performances on the stage. This family-friendly event also features a petting zoo and pony rides for the little ones.
When: Sunday, July 15th 10 am to 7 pm
Where: Wentworth Avenue from Cermak Avenue to 24th Place in Chicago
Cost: Free!
Summertime Family Fun!
Chicago is a culturally diverse city that's known for its many different fairs and events held throughout the summertime. Instead of sweltering in your house or running up the electricity bill as you run the a/c, join tens of thousands of your fellow Chicagoans as they celebrate living in our fantastic city!