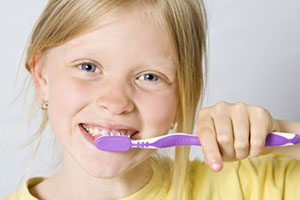 Do you have trouble convincing your children it's time to brush their teeth? Many kids find it difficult to want to scrub their tiny molars as they see it just like any other chore. However, with the right attitude you can make brushing teeth a fun activity that your children get excited to do. Healthy teeth in young children are extremely important, so try out a few of these tips next time you're brushing with your kids.

Start With Variety
An easy way to get a child excited about grabbing that toothbrush is by giving them an option. Buy an assortment pack of toothbrushes that are multicolored or have different characters from their favorite story or movie on them. Every time they go to grab their toothbrush, they get to choose a new fun color. Already, the child feels as if they're in control and that they can make brushing their teeth just a little more fun.
Brush With Them
Children learn from a good example, so at first, always brush your teeth with your children. Show them how fun it can be. A client of ours once told us of how his grandfather used to brush his teeth with him when he was a child. Halfway through the brushing, his grandfather would always stop and show him a big, foamy smile. That stuck with him, and every time he brushed his teeth, even as an adult, he would give himself a big foamy smile halfway through the brushing.
Tasty Toothpaste
Many toothpaste companies make toothpaste specific for children that often have a sweeter taste that a child can enjoy. Look for safe and non-abrasive toothpaste approved by the ADA.
Get the Timer
Any parent knows children have a tough time staying still for more than a few seconds. To help condition your child to brush their teeth for more than a blink of the eye, grab a timer. At first, set the timer to twenty seconds and challenge your child to brush until the timer goes off. Gradually increase the time until you've reached two minutes.
Dance While You Brush
If your children don't seem to take to the timer experience, find a fun song they love that's around the two-minute mark. Let them listen to the song as they brush their teeth and let them know they can't stop until the song is over. Let them get funky with the song, even dance with them a little, just make sure they keep brushing their teeth.
Reward With a Sticker
A simple reward for a job well done is a sticker. It can easily be put on a board or poster that the child can then see and feel proud of whenever they finish their brushing.
It's important to start your children early with proper oral hygiene as they adapt habits much easier when they're younger. If you're consistent with your education and participation with your teeth brushing, it will have a lasting effect on their care for their teeth. Make sure to consider taking your child to the dentist as early as age 2. If you have any more questions, contact Water Tower Dental today.