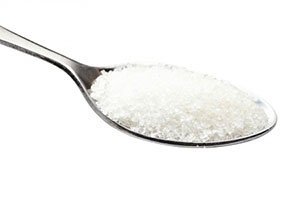 We've all been taught from a very young age about the dangers of sugar. We're told to avoid candy, and to eat your vegetables. And while that is good advice, it misses the point. Sugar is one of the easiest fermentable substances available, and found in hundreds of foods, not just candy, so why the stigma? Well, it's not so much the sugar that's bad for your teeth; it's the bacteria that love the sugar just as much as you.
Let's face it, sugar makes many foods delicious, it's the added ingredient that turns a subtle flavor into something much bigger. So, really, how bad can sugar be for your teeth?

It's not so much that sugar is directly bad to your teeth, but rather, bacteria known as streptococcus that lives and breeds in your mouth. Streptococcus loves sugar just as much as your taste buds. The bacteria go through a feeding frenzy when sugar is present in the mouth. The longer the sugar is in your teeth, the more time the bacteria have to feed. As it feeds, it begins to excrete acids that are the true culprits of tooth decay. They eat away at your enamel and cause cavities and other such problems.
While everyone's teeth are different, and some are more susceptible to tooth decay, it is often the job of your saliva to add a buffer between the sugars and the bacteria that eat it. However, with large intake of sugar, such as candy, soft drinks, and sweets, it's better to take steps to prevent cavities and tooth decay.
The best steps to warding off the harmful effects of sugar are to rinse and brush your teeth after you eat a considerable amount. This method flushes away any excess sugars that saliva did not get, and helps kill bacteria that still remain in the mouth. Use floss once a day to remove bacteria from the crevices of the teeth and gums, as they are much harder places to reach with a toothbrush.
Other methods to help clear your mouth of harmful sugars are by using topical fluorides and mouthwashes. There are some gums that are fortified with xylitol, which contains antibacterial elements and helps keep harmful tooth-decaying bacteria at bay.
So, the question, how bad is sugar for your teeth is not determined by just the sugar- but by the eater. Sugar is bad for your teeth if you decide to allow it to be. Proper oral hygiene along with conscious healthy practices can keep tooth decay from sugar at bay.
How much sugar should you consume then? In terms of the healthiness of your teeth, sky's the limit, as long as you clean after. Though we don't recommend you start eating pounds of jellybeans every day. However if you felt you overate one day, you shouldn't worry as long as you keep your teeth clean. Although, for a proper diet, you shouldn't consume more than about 150 calories of sugar per day, or about nine teaspoons.
If you stay consistent with your sugar intake and keep your teeth clean, then the stigma of sugar should vanish faster than Houdini. Of course, it's also wise to schedule regular check ups with your dentist for routine cleanings and inspection of your teeth and gums. Contact Water Tower Dental today if you're looking for professional dentists that can help you get on the track to a brighter, healthier smile.