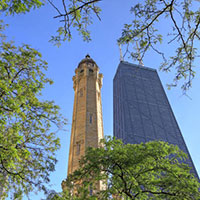 Water Tower Place is located smack dab in the middle of the Magnificent Mile, a 13-block stretch of businesses, entertainment, and cultural places of interest. It is the premier commercial district in downtown Chicago and home to many upscale luxury boutiques, fashion outlets, restaurants, and hotels.
Water Tower Dental care resides in the 72-story skyscraper that makes up Water Tower Place. Native Chicagoans know this is the place to be or go when you want to see and be seen. No matter your tastes or interests in life, there is a little something for everyone at Water Tower Place.
We've compiled a little guide to Water Tower Place, and we hope you will find it useful and helpful. Don't forget; you can always schedule a teeth-cleaning appointment with Water Tower Dental Care in the morning and be shopping in the many stores by early afternoon.
History of Water Tower Place
Water Tower Place is named after – yup you guessed it --- an old water tower that was built in the heart of downtown Chicago in 1869. The primary purpose of the tower was to draw clean water in from Lake Michigan to serve the needs of both Chicago residents and the firefighting departments alike.
The Great Chicago Fire of 1871 saw almost the entire downtown Chicago go up in flames. The water tower was one of a handful of buildings that survived the devastation. As the years turned into decades, the city of Chicago retrofitted and renovated the tower to upgrade it to modern construction standards as well as to clean over a century of dirt and grime off it.
Water Tower Place came into existence in the 1960's, and the skyscraper where the offices of Water Tower Dental Care resides was built in 1975. Over the next 40 years, subsequent developers began building up Water Tower Place. Known for both its middle-class and luxury shops, it is a Chicago icon that has continued to evolve and grow over the decades.
Types of Shops
The shops at Water Tower Place are a destination for many Chicago residents and out-of-towners. The vast majority of the shops are contained within an 8-story mall. Over 100 retailers, restaurants, and entertainment venues are located within the building.
Hotels
If you're visiting Chicago, there are many hotels scattered throughout the Miracle Mile area. They range from 4-star luxury hotels to your basic run-of-the-mill B&B. Without a doubt, the most prominent hotel in the area is the Ritz-Carlton. They opened a hotel in the tower in 1975, and it's grown into a 435-room local landmark.
Renting a hotel room in the immediate area can be somewhat pricey. You can find deals by visiting one of the many travel and deal websites. Sometimes the hotel(s) have extra rooms in their inventory and will run promotions to fill them up. O'Hare Airport is just a 35-minute short drive away, making the hotels in the area very accessible to tourists.
Dining
If there's one thing Chicago is famous for, it's our love of food. In the mall, you'll find your usual stores such as Starbucks and Auntie Anne's Pretzels which can satisfy your food cravings until it's time for dinner.
Harry Caray's, M Burger, Mity Nice Bar & Grill, and Wildberry Pancakes make up the bulk of the sit-down food establishments inside the mall. If none of the above tickles your food craving, step outside, and you'll find one of hundreds of local restaurants, pizza joints, and libation establishments.
Protip: If this is your first time in Chicago, make it a point to visit Pizzeria Due which is a Chicago icon. On their menu is a mouth-watering deep-dish pizza that will have you licking your fingers afterward and planning a 2nd trip back to Chicago to eat more deep-dish pizza. It's located just seven short blocks from Water Tower Place.
Entertainment
A mall isn't a mall without entertainment and Water Tower Place doesn't disappoint. If you visit their website, you'll find a list of events and upcoming attractions. At this time of year, all eyes are on Santa Claus himself, and he's already confirmed his appearance at the mall (assuming his reindeer don't break down on their way from the North Pole).
Take the little ones to sit on Santa's lap while you enjoy a Pumpkin Spice Latte or other seasonal beverage from one of the many cafes and restaurants located in the mall.
The mall also has an app you can download which will keep you abreast of any upcoming events. They also offer free Wi-Fi while you shop (you'll need to sign up for their emails first).
Water Tower Place
If you're looking for a great way to kill a few hours, Water Tower Place is the place to be. Whether you're flying solo, with your significant other, or heading up a caravan of children, grandparents, and out-of-state relatives, Water Tower Place has something for everyone.
If you find yourself in the area, be sure to stop by our offices, say "Hi!" and make an appointment for your teeth to be cleaned. The holiday season is rapidly approaching, and all those sweets, candies, and sugar-laden holiday foods can leave a nasty layer of plaque all over your teeth.