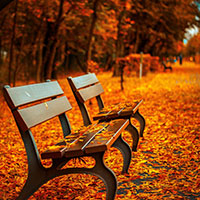 As the warm summer days give way to crisp autumn nights, there's no better time to round up the family or loved ones and head off to one of several famous Chicago fall festivals. Whether you're with your family, significant other, or just flying solo, there are many great autumn festivals to choose from.
Here are our top five picks for best fall Chicago fall festival:
Apple Fest in Lincoln Square
Fall is the traditional harvest time for apples. Apple cider, applesauce, apple candy, and anything apple-related will be sold at the Lincoln Square Ravenswood Apple Fest. This family-friendly event features handcrafted wares, live music, and a zone for children's activities. It takes place in early October and is a great time to stock up on apple products before the season is over.
When: October 6th and 7th from 9 am to 8 pm (Sat), and 9 am to 6 pm (Sun)
Where: Lincoln Avenue (In-between Lawrence and Eastwood), Lincoln Square
Cost: $5 donation (suggested)
Shades of Autumn Pumpkin Festival
This annual event is so big that it can't be completed in one weekend, which is good because the festival last all fall time long. There are more than 25 family-friendly things to do such as a petting zoo, pumpkin picking, and traditional horse-drawn hayrides. There's also a pumpkin cannon, apple cider donuts, hamster track, semi-truck slide, and an event called "trikes for tikes."
There's so much to do and see that you can make it a two-day or multi-weekend affair. The Shades of Autumn Pumpkin Festival celebrates everything pumpkin and is a great place to bring the little ones to pick out the perfect fall time gourd to take back home and carve into a scary face.
When: Starts Sept. 8th and runs through October 31st.
Where: Stade's Farm & Market 3709 W Miller Rd., McHenry
Cost: $15 (all ages)
Harvest Pow Wow
The Harvest Pow Wow at Naper Settlement is a great way to introduce your kids to Native American culture. The event celebrates Native American heritage with traditional costumes, dancing, cultural demonstrations, children's games, and arts and crafts. Learn how the Native Americans prepared for and survived the freezing Chicago winters.
The Pow Wow is located in Naperville, which is a 40-minute ride outside downtown Chicago. There will also be food booths selling traditional Native American food, a bird of prey exhibit, and Native American dancers decked out in full regalia. This annual cultural event is a must-do for kids of all ages.
When: September 22nd and 23rd 11 am to 5 pm.
Where: Naper Settlement, 523 S. Webster Street, Naperville, IL 60540
Cost: $12 adults and $7 ages 3 to 12.
Donley's Wild West Town Fall Festival
Experience out-west in the Midwest at this annual fall festival that celebrates both the seasonal change as well as everything Wild Wild West related. You and your little gunslingers can pan for (fake) gold, ride in a vintage canoe just like the pioneers of yesteryear and check out a Wild West show.
There's also a spooky (but not super scary) tunnel train ride, kid's activities, and even a pumpkin painting station. If you're tired of traditional fall festivals, you shouldn't miss this one as the Wild Wild West theme is family fun for all. You and your kids can even dress up and mix and mingle with the other cowboys and Indians.
When: Weekends (only) Starts Sept 22nd and runs through Oct. 28th from 10 am to 6 pm.
Where: 8512 S. Union Rd., Union
Cost: $17 and free for children under the age of 2.
Garfield Farm Harvest Days
We've saved the best for last as the Harvest Days at Garfield Farm is one event you shouldn't miss. The Garfield Farm is the only intact Illinois prairie farmstead that's in existence. It was built in the 1840's and is considered to be a living history museum.
Come see how the earliest inhabitants of the Chicago area lived, worked, and played.
Learn how they celebrated the fall harvest with live demonstrations of farm and household skills, music from the period, and various treats. Attending this event will give your kids the opportunity to see how life was lived before the internet, Facebook, and video games.
When: October 7th 11:30 am to 4 pm
Where: Garfield Farm Illinois 38/Garfield Rd., LaFox
Cost: Adults $6; Age 12 and under $3
Fall Time in Chicago
There's no excuse not to attend at least one of these festivals this fall season. The weather will be cool, but not cold, and a nice fall crisp will be in the air. Even though these events are family-friendly, anyone can attend and have a good time. If you're looking for the perfect date night that won't break the bank, look no further than one of these five fall time festivals. If you're planning on attending, make plans soon as the fun fall times won't last!