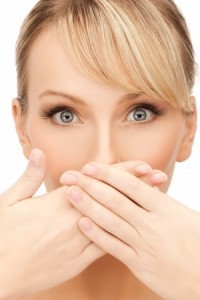 A large percentage of Americans suffer from bad breath. While good oral hygiene can help keep bad breath at bay, sometimes a mouth needs to take further measures to help keep it from smelling too bad. Today we'd like to discuss a few natural ways to help reduce bad smelling breath.
Bad breath comes from bacteria that breed at the back of your tongue, throat, and tonsils. The more this bacterium grows, the harsher your breath will smell. In the morning, your breath can often be the worst because the bacteria had all night to grow and produce while you slept. There are some great natural ways to help reduce the smell of bad breath and keep the bacteria in the back of your throat controlled. Here are a few of the best natural recommendations:

Parsley
Not just used for decoration on your dinner plate, parsley is a natural palate cleanser. Rich in the chemical chlorophyll it can help neutralize the bad breath and clear away any tastes in your mouth.
Parsley is also an anti-mutagen. Mutagen is a mutation, chemical or biologically, of a substance, in this case bacteria. It can change from an unscented chemical to something much worse. Parsley stops the substance from this action. Try a few sprigs of parsley after dinner; it's a great way to keep the mouth fresh.
Apples
Apples as well as any kind of fiber-rich fruit can help battle bad breath. One of bad breath's triggers is a dry mouth. Fiber-rich fruit helps activate saliva to wash away bad bacteria. Natural enzymes in apples are able to help break down the sulfur compounds that cause bad breath. As well, the texture of fruit acts as a natural toothbrush that can help clear the mouth of old food and plaque, which often helps lead to bad breath.
Lemon
The use of a lemon can help activate your salivary glands to flush away bad breath. Try sucking on a lemon or even squeezing some of the juice in a fresh glass of water. The acidity helps kill bad bacteria as well as salivate your mouth. Dry mouth is one of the leading causes for bad breath, so helping keep the mouth hydrated and wet is extremely important
Water
That leads to our next tip, keep your mouth hydrated with water to avoid bad breath. Make sure to drink the daily-recommended amount of water every day: at least eight cups. Often people who do jobs that require a lot of talking have worse breath because they dry out their mouth. Be aware of your hydration levels and make sure to keep drinking lots of water throughout the day.
Fresh Herbs
Originally, before toothpaste, many people used fresh herbs to keep their mouth clean and breath fresh. That's because most fresh herbs contain chlorophyll, which absorbs bad odors. Just like parsley, many other herbs can curb the smell of bad breath. Especially helpful herbs include mint, peppermint, dill, and basil. If you chew then swallow the fresh herbs after a meal, they can continue to help fight bad breath throughout the night.
Avoid Sugars
A natural way to prevent bad breath sometimes doesn't mean eating certain foods, but rather avoiding the bad ones. Sugars are especially great at promoting the growth of bad breath bacteria. Avoiding anything too sugary (i.e. candy, desserts, chocolate, soda, energy drinks) will both eliminate bad breath and help keep you just a little healthier.
While these are all great tips, we cannot stress how important it is to brush and floss daily, at least twice a day. Removing plaque, food remnants, and harmful bacteria is the best way to keep your teeth, gums, and tongue healthy. Try softly brushing your tongue, reaching as far back as possible to help scrub away bad bacteria that can be causing bad breath.
As well, don't hesitate to make an appointment with your local dentist. At Water Tower Dental we perform routine cleanings that help remove tartar from teeth, eliminate areas of bacteria build up, and advise you on how to keep your breath as fresh as possible. If you're in the Chicago-land area, make an appointment today and be well on your way to a healthy smile.