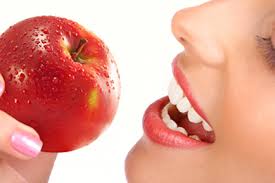 There are a lot of conflicting opinions if apples are good for your teeth or not. Seems odd that it's even a question. How could the fruit recommended to keep the doctor away hurt you? A few years back, the Toronto Star published some negative effects of an apple on your teeth. However, we don't believe this settles the case on if an apple is bad for your teeth or not. We think it's a tricky grey area, an apple can actually help your teeth and keep them healthy- just as long as you eat it right. These are the true food villains that are bad for your teeth.

How Is An Apple Good For Your Teeth
An apple helps both your teeth and your all-around oral hygiene. Think of it as a natural toothbrush. The fruit, that's rich in fleshy fiber, helps scrub your teeth, gums, and tongue. The skin of the apple especially, which is extremely high in fiber, can scrub against your teeth and help remove stains and fight plaque.
Furthermore, Apples are great for getting rid of bad breath. That natural fiber helps remove the traces of plaque and residue that harbor in the back of your tongue and throat that create the bad breath. The acidity of the apple helps kill any bad bacteria that may cause the bad breath as well.
How Is An Apple Bad For Your Teeth
The Toronto Star claims from a study published by UK's Journal of Dentistry, that an apple's acidic structure can be harmful to your teeth. This is true; foods high in acidity can damage the dentine in your mouth. Dentine is the layer of tooth just under the enamel. The acidity of an apple can eat away at your dentine and damage your teeth.
As well, apples have high sugar content, and we all know how bad sugar can be for your teeth. Furthermore, apple juice, along with most fruit juices, is highly acidic as well and can be harmful to that dentine.
Don't Stop Eating Apples!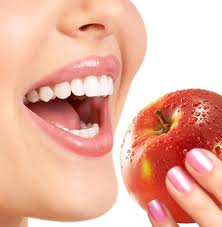 However, though apples can hurt your teeth, their benefits greatly outweigh the risk. Not only can apples help our teeth, they can help regulate our blood sugar, are low in calories and are a great source of dietary fiber. The negative effects of apples are easily preventable and mostly depend on your apple eating habits. If you want the good benefits of apples without the negative impact, follow these steps:
1. Eat your apple in a single sitting. Don't graze an apple. The longer the acidic elements are in your mouth, the more harm they can do.
2. Eat apples with other snacks. Munching on a piece of cheese, milk, or some bread can help neutralize the apple's acidity. Especially if its a food high in calcium.
3. When finished with an apple, swish your mouth with water. This will help release and flush away the acidic elements that are hiding between your teeth.
4. Wait about 30 minutes before brushing your teeth after eating an apple. If you brush too soon after, the sugars from the apple will scrub off your enamel. Use water to flush as much out before brushing.
If you follow these steps, apples will never be harm to you. In most cases, no food will be of harm if you follow these steps. Proper oral hygiene by brushing and flossing everyday will especially help. And, of course, a visit to your dentist for a special cleaning every six months will keep you safe from serious oral issues. Call Water Tower Dental Care today to set up an appointment.