Water Tower Dental Care is your Certified Invisalign® Provider on the Magnificent Mile in Chicago, IL
Let's face it. Straighter teeth are healthier and more attractive than crooked ones. Misaligned teeth don't give off the right first impression, and they provide hiding places for food particles, bacteria, and plaque.
For many years, ugly metal braces were the only way you could permanently straighten your teeth. The problem with traditional braces is that most adults don't want to be seen or have to deal with a mouth of metal — and rightfully so!
At Water Tower Dental Care, we offer the best Invisalign Chicago can offer to help straighten teeth without brackets or archwires.
What is Invisalign?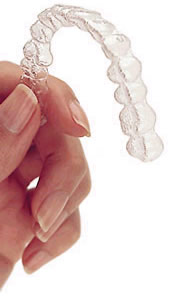 Invisalign is a custom-made aligner that sits inside your mouth. It's made out of a durable and safe USP Class VI medical grade, polyurethane resin. The aligner takes the place of metal braces and is almost entirely invisible.
The resin used to make Invisalign is completely transparent. This means it will be extremely hard for people to notice that you're wearing them, unlike metal braces.
They're practically invisible and can be removed when you need to eat. The best part is that you don't have any of the food restrictions you would with metal braces. You can eat whatever you want, and once you're done brushing your teeth, you pop the aligners back in.
How Does Invisalign Work?
Once our office fits you with an Invisalign aligner, you will need to wear it for no less than 22 hours per day. You can take the aligners out at night or when you need to eat. It's really easy to remove the aligner before a meal: just reach into your mouth and pull it out. No pain, no hassle, no issues. It comes out with no pain, as easy as 1-2-3!
Over the course of the next nine months to a year, the aligners will gently move your teeth so they reach perfect alignment. Every two months, you'll need to re-visit our office, so Dr. Aneszko or Dr. Stino can give you a new aligner that will help straighten your teeth even more. Some dental offices will provide their patients a few weeks' supply of aligners so they only need to re-visit every eight weeks instead of two.
You might be wondering how Invisalign could have revolutionized orthodontics. Two words: advanced technology. Drs. Aneszko and Stino begin by using a 3D scan to help plan your treatment from start to finish. Your customized set of clear, SmartTrack acrylic Invisalign aligners will be created specifically for your smile at an Invisalign lab. You'll wear each aligner for about two weeks and visit us every two months to make sure your treatment is going according to plan.
Invisalign vs. Braces
Invisalign and braces work very well. They do the same job: straighten your teeth. They differ in how they go about doing that. For metal braces, you'll need to visit your dentist every month, whereas with Invisalign you'll need to see us every two months.
Metal braces can make brushing and flossing extremely challenging, and you're strongly advised to avoid certain foods. With Invisalign, all you need to do is remove your aligner, eat what you like, then pop it back in after you've brushed your teeth.
Sometimes, the dentist will recommend metal braces over Invisalign. For example, if you have a crossbite, extremely crooked teeth, malocclusions, or other flaws of the jaw, Invisalign will not work. Fortunately, for many simple-to-moderate cases of gapped or crooked teeth, Invisalign works perfectly.
I'm Currently Wearing Braces — Can I Switch to Invisalign?
There is a possibility you can make the switch from braces to Invisalign. Make an appointment with Water Tower Dental Care and speak to one of the doctors about your desire to switch to Invisalign.
Whether or not you can make the switch will be determined by how misaligned your teeth are. If you have super-crooked teeth or other extreme jaw issues, you may not be able to make the switch.
Is Invisalign Painful?
Invisalign works by gently moving your teeth over time with constant pressure. During the first few days of wearing a new aligner, you may feel a slight discomfort. Most people describe this feeling as "gentle pressure," and the sensation will subside after a while.
The gentle pressure you feel is a sign the aligners are working and doing their job. As each day goes by, your teeth will be gently moved ever so slightly by the aligners.
How Much Does Invisalign Cost?
The cost for Invisalign will depend on how much work needs to be done. The overall cost will be based on how many aligners you need and how misaligned your teeth are.
To get a better understanding of the total cost, you will need to make an appointment with Water Tower Dental Care. The dentists will review your teeth and then be able to give you an idea of how much it will cost. Your dental insurance might be able to cover a portion of the total cost.
Will My Insurance Cover Invisalign?
Most dental insurance plans treat Invisalign the same as metal braces. Depending on your dental coverage, you may be required to pay a certain percentage of the overall cost or the insurance may cover only a certain dollar amount.
You can ask the administrative staff at Water Tower Dental Care to look at your insurance plan, and they can give you a better idea of what it will and won't cover.
How Long Before Results Are Seen?
Invisalign starts to go to work straightening your teeth the second you put it on. However, it will take anywhere from two to three months before you notice a difference. The reason Invisalign is painless is because it moves your teeth only a tiny bit over the course of many months. Ask our office for an estimated timeline based upon how misaligned your teeth currently are.
The Clear Choice for Great Smiles in Chicago
This alternative to traditional orthodontics offers numerous advantages including:
The virtually invisible aligners fit comfortably and discreetly over teeth.
Gentle pressure moves teeth into optimal alignment for a naturally beautiful smile.
No food restrictions! Just take out your aligner and chew all the gum you want!
The BPA-free aligners are removable, so it's easy to keep your clear braces and your teeth clean.
Have a big event? Just pop out your aligner for a few hours and replace it when the party is over.
Treatment time for most Invisalign patients averages 12 months — as fast as traditional, metal braces.

Invisalign Dentist in Chicago
Treat your smile to a little bit of luxury in the heart of Chicago! Call Water Tower Dental Care today to schedule an appointment with Dr. Aneszko or Dr. Stino. From our offices in Water Tower Place building on The Magnificent Mile, in the heart of downtown Chicago, we offer a level of service that's anything but ordinary!
Invisalign and the Invisalign logo, among others, are trademarks of Align Technology, Inc., and are registered in the U.S. and other countries.